Welcome to our Festival Blog
Author, father and local resident David Boyle will be blogging for us this year!
Sunday 5th June



A DREAM OF FESTIVALS TO COME
I dreamed last night I had woken up in Steyning in May 2026, only ten years hence - a bit of a shock that - and overheard a conversation in the AmazonTesco Delivery Office (used to be the post office, I gather) about the Festival that year.
"I hear there's this Chinese artist who's coming..."
"What, to do the closing ceremony?"
"Not to
do
it! To
design
it..."
"Well, I think it's stupid. I mean, why do we need to bring in someone from so far away? When did the festival get so big that we needed a thousand dancers on flourescent bicycles? Or Elton John arriving by drone on the stage at the playing fields? I ask you..."
"And don't forget the Red Arrows."
"I haven't. Or the fireworks display pouring down from the top of Chanctonbury Ring."
"That was last time."
"All I'm saying is, it's too much - look at this headline 'Chinese artist Chu-Chin Chow to design Steyning Festival closing ceremony'..." Think of the security guards again, all around the town, and the surface-to-air missiles..."
"I don't read the newspaper any more. Certainly not the GuardiGraph."
"I know it's the Queen's centenary this year, but why can't we have the finale we had in 2016 - remember celebrating those Sussex traditions in the Big Top and the church, on the last day of the festival?"
"I remember that! I learned to play Stoolball that day! I've never forgotten it! Everyone dressed up, didn't they - it was wonderful. All that Sussex food too - now why can't we do that again?"
At this point, they called my turn and I started negotiating for my delivery at the counter. I wanted to pay in dollars... Then I woke up. But the dream has been bugging me ever since. That's why I'm telling you now.
Friday 3rd June 2016

THE STRANGE SOCIAL SUCCESS OF STEYNING
"If you want to have a heart attack, now is the time to have it," said Martin Leigh-Pollitt of the Steyning First Responders scheme, explaining that all his team of first responders were in the audience at the Big Top.
Martin's introduction took place at the Festival session on the history and art of Cissbury and Chanctonbury, which was partly in aid of his team and he pinpointed one of the extraordinary strengths of the Steyning Festival: "If you have a good idea in Steyning, people will step forward and back you."
This is demonstrably true. It so happened that I had been having a conversation in the minutes before (thanks, Geoff) about social capital and how the success of the Festival feeds off it and builds it.
The term might need a little introduction. It was a concept popularised by the American social economist Robert Putnam, whose book Bowling Alone took the establishment by storm in 1990 - the title was inspired by a visit to a miserable bowling alley in Connecticut, where Putnam described the lonely isolation of the men by themselves in the alley, staring sadly up at the televisions.
Successful places, he said, had something more than money and financial capital. They trusted each other enough to make other things possible. They had 'social capital' and he pointed to the ancient cities of northern Italy where the institutions had survived since the twelfth century.
Well, something similar is true of Steyning, which appears to be able to support a highly successful and ambitious arts festival for two weeks, almost entirely from the local population. It succeeds whether or not it draws in audiences from outside, though it increasingly does.
That has something to do with the relative wealth of the town, of course, but there are other, far wealthier places which couldn't manage it. And maybe, like the Italian towns that inspired Robert Putnam, the institutions of Steyning stretch right back too. Perhaps not as far as the twelfth century - the First Responders team is rather new, and so is the Festival come to that. But there will be institutions in Steyning which stretch back that far. I've thought of one of them so far, and another that dates to the sixteenth century. How about you?
Monday 32st May 2016

WEATHER 1, STEYNING 3 (FINAL SCORE)
Never in the fields of Steyning was such a variety of weather sent to try our commitment to the Steyning Festival.
On Saturday, torrential rain tried hard to dislodge the Retro and Vintage event at the Big Top, where a makeshift 1940s tea shop rubbed shoulders with vintage teacups, strange new kinds of fudge and a 1931 Morris. Then it was, if anything, too hot.
Certainly there was a very great deal of ice cream.
On Monday, strong winds out of the west - and cold ones too from the north Atlantic - swept in over the Steyning playing fields in an attempt to dislodge the dog show, the music and the community fun day.
But Steyning and the many visitors, crowding down the high street, kept up a phlegmatic defiance, determined to enjoy themselves and to live up to the old motto Steyning Carries On. Perhaps the bravest moment I saw was the bare-legged gymnasts going through their moves in the freezing wind.
I can't say the weather is really playing its part even now...
Saturday 28th May 2016




YES, I REMEMBER THE STEYNING STOP
Since Dylan Thomas very kindly rose from the dead to write a blog post for the Steyning Festival, I've been bombarded by information about other poets who wrote about Steyning. So I'm grateful to Professor Leopold Z. Hackenbacker from the University of South Eastern Kentucky, who has uncovered this early draft of a famous poem by Edward Thomas:
Yes, I remember the Steyning stop -
The name. Because one summer's day
Of heat, the Horsham train drew up there,
As it always did. It was late May.
The steam hissed. People cleared their throats
And oh so many of them came
On the crowded platform. What I saw
Was Steyning - and not just the name...
I saw this place might one day host
A jolly good arts festival here,
And draw in crowds, a century hence
From Sussex, Kent, and far Hampshire.
Which brings me to the old Steyning Line, immortalised in a locally brewed beer. It is almost impossible for us, who have arrived since Beeching's disastrous axe, to imagine what Steyning was like when it had its own station.
I imagine that's what people said a few hundred years after the harbour silted up here as well. The same is true the other way around: could those who knew the railway imagine the town without it?
I expect the town would have felt more connected to the world outside. There would have been more commuters, and no bypass. I imagine we would all be out campaigning - not just against the gravel pit or against housing up to the foothills of the Downs (though there would have been some of that) - but to keep the line open.
But that seems to me to be a reason why it should be remembered. Which is why I'm glad that Philip Gardner is holding an evening of archive film about the
Lost Railway on 31 May.
It promises to be an evocative take on a piece of local heritage and especially important because the line closed in March exactly half a century ago this year.
** Don't miss Richard Durrant's performance as

'The Guitar Whisperer' in the Big Top on 1 June
Friday 27th May 2016
DUSK AT DAYLANDS: STORYTELLING IN STEYNING
Storyteller Jamie Crawford explains the background to his session on Sunday. Dusk at Daylands
One of my favourite aspects of the storytelling job is being invited to tell site-specific stories. This year Steyning Festival has asked me back to lead another walk around the wonderful Daylands Farm.
The route takes in the 15th century farm house, an orchard, ancient woodland, pasture fields, a trout stream and ponds. Farmer Derek Crush accompanies us, providing fascinating insights into the history and ecology of the land he has cared for over many decades. I do the folklore!
It's a great way to get closer to the hidden landscape of West Sussex, and every year I find out things I didn't know. A secluded footpath, for example, turns out to be an old drovers' track from the days when cows, pigs, sheep and even geese were driven - on foot - in their hundreds from as far away as Wales to the cinque ports of Kent and Sussex.
It's the perfect spot for a tune on the bowed psaltery and my version of The Little Cattle, the story of a hapless inn-keeper whose clientele of drovers is driven away by mice!
That's just one of the tales I'll be telling on our stroll around Daylands. So come and spend a summer afternoon in the company of wildlife, stories and fellow travellers. It's a gentle walk and refreshment is provided in the garden at the end. The walk is suitable for adults and children aged ten and over. Book a place by clicking on the link below.

Storytelling Walk at Daylands Farm Sunday 29th May15:00 - 17:30


FROM AMBRIDGE TO STEYNING
Did you know the poet Philip Larkin loved the Archers? This may come as a shock to the literary purists, though there are some of us who believe that the Archers comes as close to literature as anything the BBC has ever produced. Certainly BBC Birmingham.
Still, the news that Larkin enjoyed the gentle comings and goings of Ambridge (comings and goings to prison these days) throws into sharp relief the other link between them.
This is a way of explaining that the actress Sunny Ormonde, who plays Lilian Bellamy in the Archers, is coming to the Steyning Festival in her show about the poet Philip Larkin, Larkin' About. The performance is on 3 June, but more on that in a moment.
Interviewing Sunny, as I did to write this blog, is also a bit of a surprise because she doesn't sound like Lilian at all. Instead of the gin-soaked gravelly voice from a lifetime of chain-smoking, Sunny herself talks fast and charmingly.
"I love Lilian's voice," says Sunny. "But being so different from my own means I can do other voice work without being recognised as Lilian! It means I have a wider vocal market..."
She got the part in 2000 though she had been afraid that her voice was too light for the part.
"That's why I developed the gin-ny laugh, to give texture and support to the vocal quality," says Sunny, "and now the laugh has become her signature. The producers suggested they wanted someone who sounded older and more raddled vocally, which meant I was more relaxed at the audition and had fun with it." As it turned out, the sense of fun was exactly the quality they wanted, so she has been Lillian for the last sixteen years.
She realised early on that she would need to find other dimensions to Lilian's character.
"She couldn't be just about gin, cigarettes and men - so I explored her more and developed a vulnerability and, at times, a child-like quality," says Sunny. "Everyone has reasons why they behave as they do. So I needed to explore Lilian's inner life, and as a result, I've been given more diverse and interesting story lines - a lot of fun ones but also emotional ones."
In Larkin' About
, he show Sunny is performing about Philip Larkin, Larkin himself is played by another Archers actor, John Telfer (he plays the vicar). The performance was developed three years ago and they have been playing it with great success ever since.
The idea emerged in a conversation with the musicians she had been performing with at the Edinburgh Festival and had the idea of writing a show about Philip Larkin - not just because of the poems and letters, but because of the jazz and other music he loved. Matt Platt, one of the musicians performing with Sunny, is not just a brilliant cellist but also a jazz pianist.
"Larkin was such an interesting chap," says Sunny. "He was a big personality, quite cantankerous, but he wrote some beautiful poetry. He was also a great one for the women." Her role in the show is to play all the women in Larkin's life.
In the meantime, Sunny is looking forward to coming back to Steyning, where she had a huge impact two years ago.
"I stayed to see a few things last time," she says. "I hadn't realised what a pretty place it was so really looking forward to coming back. Everyone is so lovely and friendly."
Is Steyning like Ambridge? Well, not really - Steyning seems to me to be more like the fictional market town known to Archers fans as Borchester. And Sunny agreed with me.
I'm less sure that Steyning's festival chair Christine Aubrey is at all like Ambridge's great organiser Linda Snell.
** Larkin gets another feature in the festival, when Larkin's friend John White arrives for a presentation of reminiscences and readings this afternoon (27 May) at 2.30pm.
Thursday 26th May 2016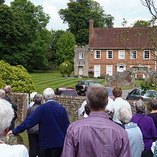 THE FIRST STEYNING FESTIVAL, THE MONTH BEFORE WE WON THE WORLD CUP

Steyning Museum curator Chris Tod looks back to 1966, when Steyning launched a previous version of the festival (Chris is telling 'Steyning Stories' this morning at the museum)
Through Steyning's past, there has been a scattering of events that were called 'festivals'. But they didn't aspire to be anything like the extraordinary programme of talks, performances and cultural events spreading over two weeks at the start of the summer, which Steyning people have contrived to create for us over most of the last ten years.
Yes, there were parades, there were carnivals, there were fairs and fetes, there were bonfire celebrations and gymkhanas and there were pageants - going back 130 years or more. But almost all of these were enjoyed on a single day. Plenty of events were often crammed into those days but, until recently, people wouldn't have had time or money for much more.
The exceptions to this have been events which have extended beyond one day. From time to time, for instance, the church has been awash with glorious and imaginative flower arrangements and, whenever that has been done, they have been left in place for several days. Occasionally other events have been added, as they were at the Millennium, but it is the spread over more than one day which has led to them being called 'Flower Festivals'.
The closest Steyning has come to putting on a festival as we now know it was back in 1966 when the "St Cuthman's Festival" ran from 8 to 12 June. The centre piece was a performance of Christopher Fry's The Boy with a Cart, which told the story of St Cuthman and the building of the Church. It was performed in the grounds of Gatewick House - more than once - by a cast of local people.
There were exhibitions of art, jewellery and dolls houses plus a display of work by pupils at Steyning's Secondary Modern School - once again, so far as we can see, by locals. There was a concert in the church, a demonstration of children's dancing, stalls on St Cuthman's Field and tours of Wiston House and Chantry Green House.
Local people were also the players in a pageant re-enacting the history of the town which paraded through the High Street to Chantry Green. The story, written by Paul Coltman - a published poet and English teacher at the Grammar School - was "spoken through a loud speaker". Not everything was planned to the last detail, so the programme at one point says "there may be Morris Dancing". And an "Archery Display and Contest" on St Cuthman's Field, with trial shots allowed, sounds frankly hazardous.
Even so, the totally local nature of the entertainments must have been a great attraction to the people of the town.
25th May 2016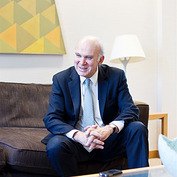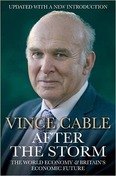 LIVE CABLE IN STEYNING
I ran into Vince Cable last night on the Shoreham train, making his way down to speak at the Festival Big Top about his book After the Storm.
I'd been told he was on the same train as me, so I walked through the carriages searching for the familiar bi-focals. I was supposed to be interviewing him, so it made sense to seek each other out.
He asked me about Steyning, clearly expecting a picturesque Sussex market town (which it is), filled with crusty old colonels and ladies with blue rinses (which it isn't). I suppose the packed audience was self-selecting in a sense, but I don't think either of us was quite prepared for the reception he received.
This is, after all, a festival like no other. The festival chair wields the microphone in the audience. The performers sit in a camper van as a Green Room, which doubles as accommodation for Tom who lives on site to make the microphones work. Yet its scope and ambition are also huge.
Now, I've always been fascinated by one aspect of Vince Cable's career. It is vouchsafed only to a handful of politicians to be known by their Christian name. Ken, Maggie, Boris. You know immediately who they are.
And I suspect they are all larger than life characters, trenchant, difficult, showpeople. Everyone also knows immediately who you mean when you say 'Vince'. Yet the man himself is thoughtful, reasonable, cerebral. People have even described him as shy.
Why do you think it is, I asked him? How did you do it?
Rather modestly, he said it had something to do with his parents choosing an unusual and succinct first name. Actually, I think it has something to do with his turn of phrase.
Which brings me to the reception he received last night. I'm not sure I'd asked myself the question, but perhaps had assumed that West Sussex might have been a place where most people might have been poised to vote for Brexit.
Not this audience. When Vince suggested that older people should think about the impact on their children and grandchildren, a great cheer went up. And I don't think the average age was anywhere near 25.
It made me wonder a little. Perhaps the polls are not as close as I had thought - but then politics ought perhaps to be beyond the scope of this blog.
There's no doubt that the audience liked him though. "I think he's wonderful," one of them confided in me as we filed out. "I think he should be our monarch."
Now, there is a radical idea...
**
Don't forget tomorrow: Helen Arnold's harp concert at St Andrew and St Cuthman church at 1pm.
24th May 2016




POISONOUS FROGS - MY INSPIRATION
The bestselling crime novelist Peter James is a frequent visitor to Steyning, and is at the Festival today to talk about his new book Love Me Dead
. He writes here for the Steyning Festival blog:
On a tour of Fulham Police HQ back in 2014, I saw two large Quality Street tins on a plump detective's desk.
'Like your chocolates, do you?' I asked him with a grin.
'Actually it's food for my poisonous frogs,' he replied.
I stopped in my tracks. In that moment, in the curious way my mind sometimes works, I sensed a plot of a new next novel. A "black widow" targets rich men and murders them using poisonous creatures!
I quizzed him for the next hour, and viewed images of his pets, the world's deadliest amphibians, poison arrow frogs. So called because their secretion is used for the tips of arrows. I also learned from him the difference between poisonous and venomous. Poisonous is something you touch or eat, venomous is something that bites you.
Then I learned something else. Out of their South American habitat, the poison loses its strength. Sensing my disappointment he said, cheerily: 'What about venomous snakes? They kill more people than guns. And often more quickly.'
Now I had my plot for Love You Dead, for sure!
23rd May 2016

THE WILD PATTERNS OF STEYNING
Pattern-maker Sarah Burns writes for the Steyning Festival blog:


Patterns are peculiar things. We imagine we get them provided for us by big companies, in the shapes on the bus seats or a popular wallpaper, but I think it is more mysterious than that. Patterns grow out of a place, and Steyning is particularly rich in them - which is why I'm running a patterns workshop in the
Festival Big Top on 24 May
When I moved here, I was so excited to find the incredible patterns carved and painted in the ancient medieval churches along the river and have been busy drawing and printing these in my small workshop (AKA my garage on Coombe Road). I've named my designs after our local saints - St Cuthman, St Peter and St Botolph: St Cuthman pushed his mother to Steyning in a wheelbarrow; you can see his picture all over Steyning and my children climb on his statue next to the church.
But there are lots of other special Steyning patterns: take a look at the shapes in the beams on the walls of the oldest houses on the High Street, see if you can spot the ancient green man carved into the ceiling beams in the Post Office. And don't forget to pay a visit to our wonderful museum where you will find patterns on absolutely everything from smocks to our own Steyning money (thank you, Chris Tod!).
The thing about patterns is that they bring order to a disordered world, but that order is best when it is local. Everywhere has these hidden patterns, based on how those who lived there in ages past brought order to their lives. And the business of making patterns never quite stops either - but, if they are satisfy us, they have to reach back into the local ether to have meaning.
My pattern-making workshop on 24 May is all about playing with shape and colour so that we can discover a sense of order and harmony in our very own fabric design. We're going to be drawing on all our wonderful local patterns to do this and hopefully, by the end of the session, we'll try and fuse them into a more universal Steyning pattern. Fingers crossed...
There'll be lots of colour, dye and fabric to play with - so if you feel like getting happily creative do come along and join in. And - if you can't - then send us your ideas for Steyning patterns on Twitter using #steyningpattern. See you there...
Friday 20th May 2016
HELLO STEYNING, FROM RIO!
Marcus Mello writes to us from Steyning festival's twin city, Rio de Janeiro:
You are quite far away, at least thirteen hours by fast jet, but I feel that you and your fellow townsmen would fit right in with the rest of us Cariocas. That's what we Rio folks are called - it's an old native word, 'oca' is the word for 'home' in Tupi-Guarany, the prevailing language when the Portuguese showed up back in 1500.
I say this because I know you are holding a festival and Festival is actually our middle name. We have one 40 days before Lent, which is quite nice - Carnival we call it, and all the folks from Steyning are invited! And, if you all came, you could have your own float in the Carnival parade. The kids might find it a bit hard, because the parade lasts all night and nobody goes home before daybreak.
It's early Fall here but you wouldn't know it from the weather: the beaches were crowded today, even though the temperature was in the low seventies - shivering cold, as far as we are concerned! And actually, the night before last, thermometers crashed down to a frigid sixty degrees, or cold enough to get the ladies to dig up the fur coat they keep in storage to wear when they visit London or Paris once every ten years.
I am very lucky because from my front window, a very large front window at that, I can look out on Guanabara Bay. Facing me is the iconic Sugar Loaf mountain, just one mile across Botafogo Cove. The mountain is actually one large chunk of granite, 2,700 feet high, that sits right at the entrance to the Bay.
I'm pretty high up on my apartment, so I can peek over the low hills to the side of Sugar Loaf and see the ocean, the South Atlantic. It's strange to think that, once in the water, there would be nothing in the way of my swimming all the way to the nearest beach from Steyning. Maybe, if I drop a bottle with a message to the Festival in time, it might just get there!
Probably not until 2020 though, so perhaps I better send this by email, don't you think?
The Portuguese who arrived here on 1 January 1501, thought the Bay's opening to the sea was really the mouth of a large river and that is why the city is called Rio de Janeiro (River of January). The mountains which ring the city reach a height of over 3,000 feet and can be seen from far out at sea.
I am a sailor myself and enjoy sailing my boat out to where one can't distinguish buildings any more: all you can see then are green mountains, like a wall actually, and I then like to pretend I'm back in 1500 because what I see is exactly what the first Europeans saw: a wall of green mountains and an opening guarded by granite rocks. I guess what I am saying is, if you have a choice, come by boat: it is by far more dramatic.
The younger crowd might be more interested in another festival we have, 'Rock in Rio', which I am told is pretty well known by aficionados around the world, which I suspect is everyone younger than I. By now, you must be getting the idea that this is a party town. You wouldn't be wrong, what with the World Cup in 2014 and Olympics coming up in just another three months.
When you come, you may rest assured that you will find lots of good stuff to eat. I recommend the seafood, in particular the shrimp, but I reckon most folk who visit us go straight to the churrascarias, the beef barbecue places where they will serve various cuts of beef on the spit and keep bringing more until you say "enough!"
There is good beer but I must confess that I myself prefer a London porter. My fellow countrymen take such pronouncements with equanimity, saying: "There's no accounting for taste". At any rate, my advice: go for the shrimp and 'chopp', the German-style draft beer.
And cover yourself with good sunscreen lotion; you're in the Tropics, don't forget. You'll find the people truly friendly and eager to share their city with you. Mostly, they don't speak English but they will totally understand you. Because if you want to communicate, they will sense that and more than meet you half way.
Finally, if you see my English grandson around, say hello for me. His name is Jack Mello McClure and he attends Cheltenham College. Or send him an invitation to the Steyning Festival: he'd be delighted!
Let me know when you are coming. We'll organize a band to welcome you folks at the dockside!
Till then,
Marcus
Wednesday 18th May 2016

THE RIDDLE OF THE ORGAN RECITAL
Steyning is lucky enough to have a really prominent organist, who isn't just here for the festival but who can be heard every Sunday in Steyning parish church.
Brian Sawyer is giving an organ recital on the first day of the festival (21 May).
The recital starts at 4pm and includes music by Bach, Elgar, Stanford and Howells. There is, he says, a connecting 'theme' running through the concert.
Since I am organising a daily blog, I thought this was a magnificent opportunity to ask Brian to write or say something about this mysterious theme, so I managed to catch him after the Sunday service and asked him.
The thing is: he wants to keep it mysterious. What he did tell me was that the theme has more to do with the composers than with the pieces of music themselves, but that was as far as he would go.
Now we on the Steyning Festival Blog really do like a mystery. So here is the challenge: let us know what the theme is and we will check with the man himself. After the concert, of course.
And while we're about it, there is another concert in St Andrew and St Cuthman two days later (23 May) by the Steyning Grammar School Jazz Band and String Group - and, almost at the same time (starting 45 minutes later) a Come and Sing Acappella session in the Methodist Church around the corner.
But we will enjoy them all the more if we can solve Brian Sawyer's mysterious 'theme' before that.
**
Don't miss the FIP radio Sunday session in the Big Top on 22 May
- FIP is the distinctive Parisian radio station founded in 1971, which has been re-broadcast in Brighton for the past 14 years.
Tuesday 17th May 2016

SUNSHINE, COWSLIPS AND A WELCOME DRINK
By Janet Pennington


Sussex historian Janet Pennington is leading a number of events at the Steyning Festival (starting with the Steyning Scandals walk on May 22). She describes here how she has been preparing for her Chanctonbury walk on May 29.
I walked up to Chanctonbury Ring in the afternoon a week ago with a friend - a trial run for 29 May. You will be delighted to know that I made it there and back, and it took three hours.
Sunshine, cowslips, and hundreds of little lambs and a welcome drink in the Frankland Arms at the end. We saw several kestrels but didn't hear a cuckoo, unfortunately. The views were fantastic. At the Trig point to the west of the Ring, we met a couple of ham radio enthusiasts, who had been using their equipment at this beautiful spot.
We made a stop at the western dew pond for a snack, also at the Ring - there will be several stops, on the way up and down, when we do the Festival Walk and at times I will become the Back Marker (sorry Phil!). There may be orchids out by the end of the month. Plenty of history and archaeology to come at the stops.
If anyone is bringing a dog, it MUST be on a lead - there are fierce notices about dogs and sheep all over the place. One useful piece of information was that two fields usually down to pasture, on the way back, have been ploughed.
No-one had yet walked through the middle, as it was obvious where the footpath went, as the farmer had marked it with a flag in the middle of the field, and the gates and stiles were easy to see. We wimped out and took a more roundabout route, but I will contact the farmer before May 29 to check which is the best way to go, or by then others braver than us will have marked a clear path.
We also met two tired and rather lost young ladies who were doing a round walk from Steyning. They did not have an Ordnance Survey map (but something downloaded from the internet), but were determined to find a way back to Steyning without climbing up to Chanctonbury Ring again! We helped them on their way, and hopefully by they were soon sitting in the Star with a welcome cider.
My face was glowing from the sunshine (we used sunscreen) and I knew I should sleep well that night, with a reminder of two of the steep bits the following day. I am looking forward to the Festival events - so see you there!
** You can find out more about Janet's work at her website
www.sussexhistorytalks.co.uk
**
There is a family and local history day at the Steyning Centre on the first day of the festival (May 21).
** You can see the full programme at
www.steyningfestival.co.uk.
Sunday 15th May 2016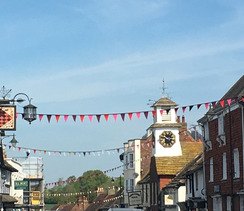 THE STEYNING FESTIVAL AND THE HAY PARADOX
Whenever I go to the Hay-on-Wye Festival, as I seem to most years - and will do again at the end of the month - it amazes me, as we speed down the narrow lanes, and under tall hedges, as my mobile phone signal disappears - why anyone would ever have thought that running an international arts festival there might be a pretty neat idea.
Yet every year it grows, and I have come to realise that it is precisely
because
it is so remote, and three quarters of an hour from the nearest railway station, so otherworldly, so different, that people love to go there - and why the greatest living writers in the world go and speak there (and me as well!).
Let's call it the Hay Paradox - that the more people can feel they are taking time out somewhere dreamlike - the more likely it is the thrive as a festival venue,
That explains something about why the Steyning Festival has been growing so fast. So, fast in fact - by about 20 per cent every time (which is currently every two years) - that it will overtake Brighton and Chichester by 2022 and Edinburgh even sooner, by 2018.
Edinburgh and Brighton have enormous fringe festivals too, so that may not be a very good comparison. But something drives the growth in popularity of the Steyning Festival and I think the Hay Paradox explains it.
This is how the official press release put it some weeks ago:
"The small, attractive, and slightly quirky Downlands market town of Steyning has a population of just 6,000, but it is home to the UK's 25th largest school, and it has a lively community of writers, artists and other creative people, as well as a very active sports and social scene. .."
There you have it, but it isn't just its size, attraction and quirkiness that counts, it is the sense you have in Steyning - as you do in Hay - that you have slipped through a wrinkle in space-time, through a wardrobe of furry coats and moth balls, and found yourself in a semi-magical, parallel world (the mobile phone coverage isn't that good either). It may not quite be Narnia, but it is always summer.
It explains why tickets are selling. A number of events have already sold out - Sara Pascoe and Frank Gardner's have now burst their seams (but there is lots of scope for tickets for other events).
So in case anyone is trying to make up their mind where to spend time this summer, here is a brief guide to the arts festivals of West Sussex. All are absolutely brilliant (and I hope they will forgive this comparison), but...
Adur
(Shoreham, Lancing and Southwick): a little too stretched.
Ardingly:
Judi Dench, but only a long weekend.
Arundel:
a little obscure - they're not revealing their events yet.
Binsted:
brilliant, but short.
Brighton:
huge, a little too brash, perhaps.
Chichester:
a little too posh.
Graffham:
they also claim to be the fastest growing.
Henfield:
lovely, but only a weekend
Horsham:
a little.
Hurstpierpoint:
a weekend.
Lindfield:
a little brief.
Midhurst:
they call it 'Madhurst'
Petworth:
three events, but not at the same time.
Shipley:
a little too spread out over time.
Uckfield:
includes puppets.
Steyning:
sunny, green, friendly, magical and perfect in every way.
Which reminds me a little of the way that Rupert Brooke gave a rundown of neighbouring villages in his famous poem, 'The Old Vicarage, Grantchester'.
This is a coincidence, because I understand a small fragment of that poem has recently been discovered (I should know, I wrote the ebook about him, I can't resist mentioning), where he tried out the same formula in other places. It went like this:
"Ah God! To watch the branches bending
Across the moon in glorious Steyning,
To smell the thrilling sweet and rotten
Unforgettable, unforgotten
Cricket smell and swat the fleas
Sobbing hungrily round your knees..."
That's all he wrote, but how different English literature would have been if he had carried on.
There is now less than a week before the Steyning Festival blossoms forth, and this blog is now going to pick up speed and we will see you daily - or practically daily - until, breathless, we reach the other side.
Monday 9th May 2016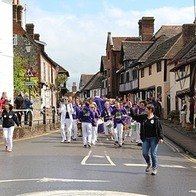 Dylan Thomas has very kindly returned at our invitation from the Hereafter, where he is running a small bar, to write for the Steyning Festival blog - looking forward to the imminent festival launch.

To begin at the beginning: It is spring, moonless night in the small town, starless and ocean green, the grassy lanes, silent and the hunched wood limping invisible up to the slow, green, tennis-elbow green, rabbit-and-stoat bobbing Downs.

The houses are blind as Colonel Cat, sleeping in his bifocals; the Steyning Centre snoozes, St Andrew and St Cuthman stir in their sleep, while Christine Aubrey - the festival chair - dreams fitfully of tickets and insurance.

Hush, the babies are sleeping, the grammar school and primary school, the Cobblestones, the vicar, the Gruffalo and the Steyning Bookshop are sleeping. Mr Bunce is dreaming of teapots. The Co-op is dreaming of butter. The Art Trail is snoring peacefully. You can hear the dew falling.

Listen. It is night moving down the streets, the tarmaced high street - where the 'Star', the 'Chequers Inn', the 'Norfolk Arms' and the 'White Horse' tilt and ride, their tills silent, their cushions exhaling. You can hear the grass growing on the recreation ground, the sleep of birds on Chanctonbury Ring.

Time passes. Come closer now. Only you can hear the sound of the Big Top waiting to be unfolded, the electricity generators waiting to be switched, the mobile toilets waiting for flushing, the silent disco relaxing its chords, the authors and musicians practicing their introductions in their sleep, the town clock ticking. Only you can hear and see the book groups, the choirs, the mice in Mouse Lane, the echo of future laughter and happy queues and cocktails and the ache of future sunlight on the grass, as they waft through the green swathes of their dreams.

The Steyning Festival starts on 21 May. You can read the full programme here

** Don't miss the Community Parade that launches the festival at 11am on Saturday 21 May.

Monday 3rd May 2016
A STATUE ON CHANCTONBURY? IF ONLY...

I used to be a planning journalist. In those days, I covered the case of the fifty foot shark built on the roof of a terraced house in Oxford. I've written about the swordfish plunging through someone's garage in Crystal Palace. I've applauded the way that a law pushed through by the Thatcher government to allow stately homes was used to allow eco-villages in the woods.

But when I heard about the plan to build a 100-foot statue of The Redeemer, a copy of the one that towers over Rio de Janeiro, right on top of Chanctonbury Ring, I thought for a moment of all the money I could earn writing about it. Selfish, I know.

It might even be possible, I thought, with the permission of the landowners (the Goring family) and from the South Downs National Park authorities for a temporary structure. There are far less inspiring temporary marquees put up on the Royal Parks in London all the time.

But since no foundations have been paid for so far, except media ones, I have to assume that the Steyning Festival's idea is not going to happen. A pity: someone should build it.

Chanctonbury is in the zeitgeist for two reasons now. First, because it features as the crescendo of Robert Macfarlane's successful book The Old Ways, where he describes an eerie - not to say downright terrifying - experience he had sleeping on the top of the hill.

I've experienced something related myself, though milder, up there too, so I take his description of a non-animal scream that circles the crest of the hill seriously.

The second thing to say about Chanctonbury is that, even if it isn't the site for a temporary statue of Christ, it will still preside over the Steyning Festival when it opens on May 21 - with people like Craig Charles, Cressida Cowell and Calum Chase (and that's just the Cs).

The truth is that Steyning is a strange, otherworldly place, nestling in the South Downs, at one remove from the hurly-burly of modern life, a precious stone set in a sea of green, a demi-paradise, if not quite Seat of Mars. But once every two years, for the festival, it explodes into the cultural life of the nation.

I'm now writing one of the official Steyning festival blogs and will be accelerating the production of these from now on. So if you want to know what's really happening around the festival, I can't promise to cover everything. But this is certainly going to be a good place to start.

You can see the full programme here

David Boyle
@davidboyle1958