May 28th, 2018
Barry Cryer Sells Out!
A triumph of timing and tickled ivories...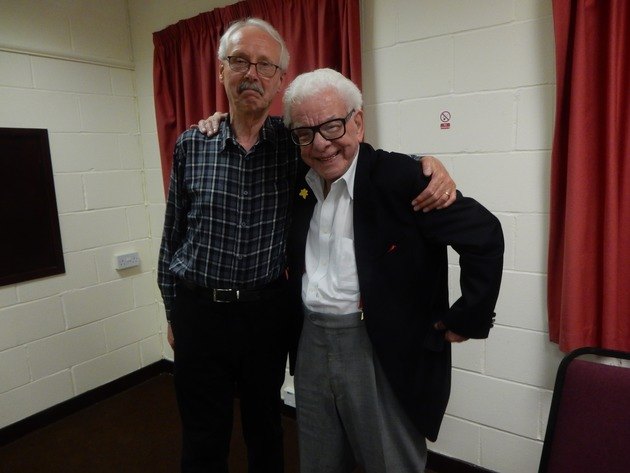 At a mere 83, Barry Cryer calculates he's about half way through his career. He has written for many of the comedy greats of the last half century or more, and, in truth, is a comedy great himself.


Last night, in a packed Steyning Centre, he was off and running (well, perhaps not running but certainly moving!) from the very first joke about meeting his wife in Horsham – she should have been at home – to the very last. Anecdotes and stories, jokes and japery, songs and silliness, poured out of him. And not to be outdone, Colin Sell, he of the pianistic flights of fancy and daft songs, told some jokes as well.


Barry has been around so long that many in the audience had seen him before. Instructive that. I asked Lesley and Phil Alexander what they made of last night.


'Barry Cryer has lost none of his sparkle and wit since we last saw him with Wille Rushton in Two Old Farts in the Night over twenty five years ago, ably supported again by Colin Sell on the piano. Both on top form last night at the Steyning Centre where they raised the roof with laughter in a sell-out performance. We miss Willie Rushton – who doesn't - but it was good to see and hear more of Colin, just as funny and a fantastic pianist. The dynamic between him and Barry is wonderfully warm and touching.'


But the real mark of an artist is what they're like when they're not performing, and Barry and Colin generously let me into their dressing room to talk to them after the performance. The jokes kept coming but so did the reflections on long careers.


What had changed in comedy, I asked Barry, since he first began?


'Every generation's got talent. They're different now. More women than ever before, which is great. But they talk about themselves – my life, what happened to me, observational. We just talked about other people, sang songs and told jokes.'


But why does he still do it?


'I wish I didn't enjoy it! The travel gets to you and the rushing about but then when you get here, like tonight, and you have a marvellous time, you think "Oh, that's why I do it!" All I ever want to do is make people laugh.'


Well, last night he succeeded! But in our dressing room chat he turned to the role of humour as a relief in a world of difficult situation and horror, where dysfunctional politicians would be funny if they weren't also dangerous, and quoted Mel Brooks, who said that you can't argue with monsters, you can only mock them.


But what of the other man in the duo? I put it to Colin Sell that in radio panel shows he's largely anonymous except when he's playing the piano. What else does he do?


'I tend to shout. I think that's part of the fun of I'm Sorry I haven't a Clue that I'm just a disembodied voice in the background. When I'm not there I have been running music in drama colleges for many years and I have a couple of shows of my own. I do some cabaret and other radio shows, and I've written some music for radio drama.'


And what about working with Barry Cryer?


'I've been doing that since 1975. We first did this kind of show since 1991. We have an enormous amount of fun. It doesn't matter how far we have to travel across the country, we are always welcomed, we always have a good time, and we always enjoy ourselves. And I think when Barry walks on stage he just gives off this wonderful feeling that we're going to have an enjoyable evening. And I do find that I quite genuinely laugh at the jokes even though I've heard 99% of them before. There's something gratifying about being in front of an audience who are thoroughly enjoying themselves. And we've really enjoyed it in Steyning.'


Excellent! Here's to the next one! Can you all come back in 83 years' time?


Tags:
#Barry Cryer #Colin Sell
,
#Festival #Blog #Events
---
Comments (0)
No comments have been submitted yet.
Why not be the first to send us your thoughts
Leave A Comment