June 8th, 2018
Music, scientifically speaking
We speak, some of us sing, some of us play, but what – scientifically – happens when we make music? In a stimulating lecture demonstration and performance, Dr Malcolm Johnston explored the subject.

Blog #31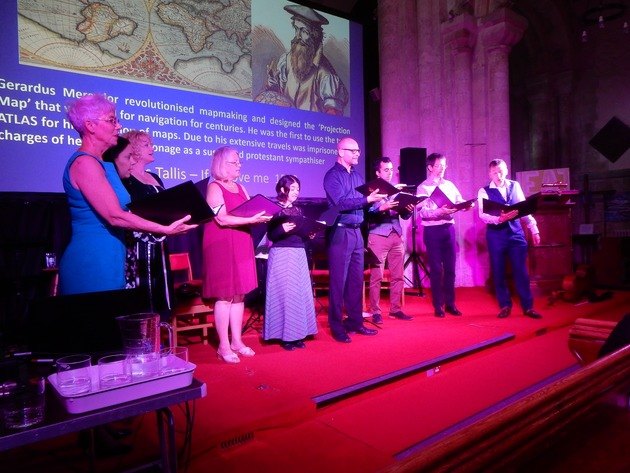 You didn't have to be a scientist, you didn't have to be a music lover, but both would have helped you make the most of a stimulating evening with Dr Malcolm Johnston and friends.

In a bravura performance, Malcolm illustrated on an impressive scale (no pun intended) what goes on in our ears and our brains when they are stimulated by music.

A Bafta-nominated friend expertly showed live shots of the organ and a string quartet/quintet as Malcolm wove a skilful path through the complexities of frequencies, pitch, timbre, and tempi to produce one of the real highlights of the Festival.

A huge screen filled the space beneath the chancel arch and a repeater screen fed pictures to those in the side aisle. As happened in a similar event two years ago, an ad hoc group called the Steyning Festival Singers filled the church with beautiful sound as they illustrated music of various genres and ages. Oh, that we could hear more of them!

It is impossible to exaggerate the professional quality of the production and the expert manner of the delivery. By turns we were baffled, bewildered, delighted, enchanted and entertained. We were on the same wavelength – or several wavelengths – in a rich tapestry of science and sound, harmoniously delivered.

At one point, Malcolm, who is both a consultant radiologist in Brighton and a lecturer at Sussex University, became his own experiment and showed that we react differently to music, familiar and unfamiliar, but that even music we don't like produces a physical reaction and a stimulation of the parts of our brain dedicated to hearing.

We can't play you the sound but we can illustrate some of the sights. If you were there, then you would know what a brilliant evening it was. If you weren't there, then make a note – or several notes – to be there next time.

It was a complex concerto of cleverness, a sensational sonata of sound, a music box of delights, and one of the most engaging evenings of the Festival.

Comments on our blogs are welcome either on the website, in person, or by email to: media@steyningfestival.co.uk

Just one more blog to come (probably!) – and then it will all be over. If you have been, thank you for reading! One more tomorrow.


Tags:
#Festival #Blog #Events
,
#Music #Science
---
Comments (0)
No comments have been submitted yet.
Why not be the first to send us your thoughts
Leave A Comment