June 8th, 2018
Passport to Steyning
Earlier this week the Cricket Club played host to an evening which saw two special one act plays performed by a talented group, brought together specially for the Festival. In the audience was Vanessa Timms. This is what she thought!

Blog #30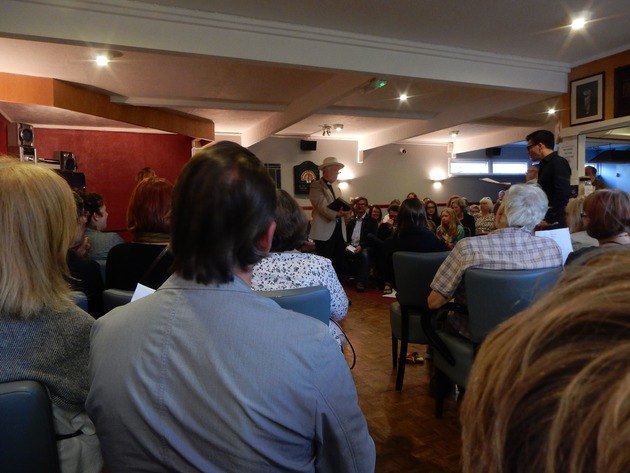 I've just returned from 'The Revolutionary Double Bill' two one act play readings performed at the Cricket Club - and I'm still smiling! I had been disappointed not to be able to take a ' Theatre Trail this year but this evening was great compensation! Two totally different plays making for a fantastic evening of entertainment and all this amazing talent Steyning-grown!

One Peculiar Man, by local writer George Linfield, directed by Nicky Dewdney, was a two-hander with many humorous moments within a serious theme. Simon and Neil were excellent as two very diverse characters interacting on a railway platform. A delightful first half.

After the interval, spent in the sunshine watching the sun go down behind our beloved Downs, we returned to a theatre in the round (yes, in the Cricket Club Pavilion!) for Passport to Steyning a hilarious tale, written by David Boyle, directed by Jeremy Tomlinson and expertly performed by familiar locals!

The story, of Steyning declaring UDI from Horsham District Council and West Sussex County Council, was initiated by the car parking charges imposed by HDC. I hesitate to go into the tale too deeply as it is imperative that this will be performed again, so many more Steyning residents can relish it! As for the finale a raucous rendition of the 'Steyning Anthem'- I can't wait to sing it again!

After Floella Benjamin, Malcolm Rifkind and Isabella Tree and this marvellous evening - the Ukelele Jam beckons, oh the diversity of this amazing Festival!

Watch this space – it may be back!


Comments on our blogs are welcome either on the website, in person, or by email to: media@steyningfestival.co.uk

A couple more blogs to come – almost there! Keep reading!

Tags:
#Festival #Blog #Events
,
#PassportToSteyning
---
Comments (0)
No comments have been submitted yet.
Why not be the first to send us your thoughts
Leave A Comment