May 31st, 2018
Practising Yoga in Nature
It's time for another guest blog, this time from Rebecca Oura, who leads two sessions in the Big Top on Sunday 3rd and Tuesday 5th June. The photograph shows a group practising Hatha Yoga with Rebecca Oura at the Yoga Garden, Knepp Safari.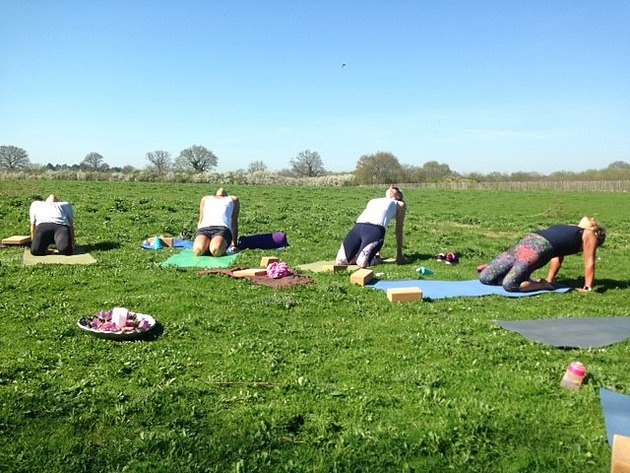 As a yoga teacher I regularly train in London. Whilst practising there in the noisy hubbub, I'm reminded of how lucky we are to be able to practise in the countryside. Whilst there's the occasional bit of traffic we generally have the benefit of listening to the sounds of nature: birdsong, the breeze through the trees and gentle chatter of passers-by.

The Hatha Yoga practice which I teach is a physical practice of gradually warming up and stretching the muscles of the body to create a feeling of well-being and calm in which we can then sit and meditate. We concentrate in particular on creating strength around the lumbar spine, using the movement of the breath as a mental focus as well as a physical tool for toning the deep abdominal muscles, particularly the pelvic floor. We start our practice by 'grounding' ourselves: this might be through the feet, the sitting bones or the back of the body, taking time to feel the support beneath us. In yoga the first chakra muladhara is activated here, earth being the representing element with the intention of our home, our safe place.

Practising yoga comfortably outdoors in the elements brings us immediately into this place of grounding as we literally feel the earth beneath us. 'Rooting down', we are brought into the present by a sensual awareness of the earth, cool and damp or warm and dry, tasting, smelling and listening to the silent abundance of growth around us. Feeling the earth through a heightened sense of proprioception enables us to deepen our practice. As we grow roots downwards and connect with our environment we begin to draw our awareness inwards, watching our breath carefully. This then takes us into the other elemental extreme of the elements – the air. The air represents higher chakra energies such as Vishudi, experienced around the throat area as our connection to others through sound. Hearing the sounds of nature around us brings us into a peaceful presence, a sense of 'now'-ness, as we follow the soundscape around us.

The strip lights and disco beat pumping urban studio contrasts with the practice of yoga at the peaceful Yoga Garden at Knepp, the tranquil wooden-floored Steyning Methodist Church listening to the chattering birds, or the yoga room at Body Matters, overlooking the Downs. In these more peaceful surroundings we are better connected with the elements, and can more easily relax into the final savasana – lying down in repose - creating a space of calm and stillness from within ourselves through our practice and environment.






Tags:
#Festival #Blog #Events
,
#Yoga
---
Comments (0)
No comments have been submitted yet.
Why not be the first to send us your thoughts
Leave A Comment