June 8th, 2018
Unsung heroes – part 2
In Blog #25, Blessed are the Cakemakers, we celebrated the welcoming work of the cakemakers. As we come towards the end of the Festival we want to thank more of those who work behind the scenes.

Blog #27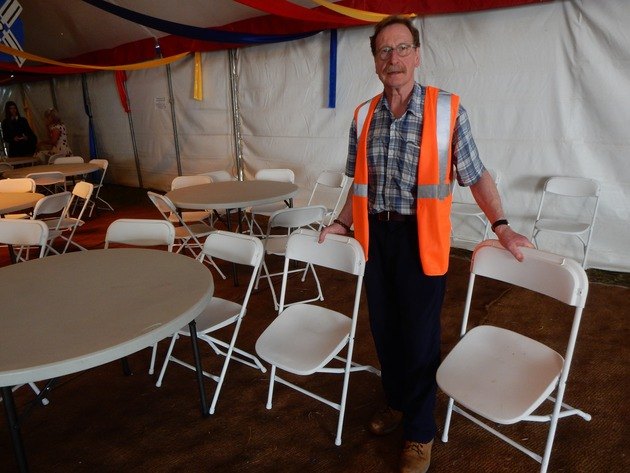 Irvin is just one of them. He is reticent to call himself the head of them but he is, at least, the co-ordinator. There's, Peter, Linda and Lyn too. They are the Big Top team. Need chairs putting out? They do it. Take them away again and leave the space clear? It's them again. Put them back and put out tables? You guessed it. They do it every day. But it isn't all glamour! They check the toilets are clean and functioning. They empty the rubbish bins. They move silently, behind the scenes, but without them the Festival wouldn't function.

Irvin and his crew aren't the only unsung heroes, of course. What about the bar staff? They volunteer to take a shift or two, to deal with the high demand that there will be at Jazzie B, to wait for the thirsty to arrive in dribs and drabs or in a torrent.

And, just like the stewards at every event, those who get the venues ready and clear them away afterwards, those who plan what is needed where and when, there is a quiet efficiency. And, more important than all of that, there is a ready welcome, a smile, a helpful word, a joke, an answered question.

The Festival of 2018 has been a great success – but it is so because people like our unsung heroes make it so! Thank you.


Comments on our blogs are welcome on the website or by email to: media@steyningfestival.co.uk

More to come!


Tags:
#Festival #Blog #Events
,
#UnsungHeroes
---
Comments (0)
No comments have been submitted yet.
Why not be the first to send us your thoughts
Leave A Comment