Community Revolutionary Parade
Saturday 26th May
11:00 - 12:00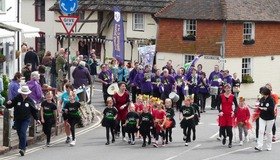 Doors Open: 10:30
Venue: Streets of Steyning
Ticket Information: Free - we will be collecting donations along the route to help defray costs

Once again in 2018 community groups of all ages have been invited to take part in this colourful and noisy opening to the Festival fortnight. This year the theme is 'Revolution' and, as this is open to many interpretations, there is plenty of scope for creativity! Expect wheelbarrows, umbrellas, balls, hula hoops, and maybe a bandana or two with, hopefully, lots of dancing. There will be three bands this year: Barulho, without whom we simply could not have a parade, plus Boom Tribe and Riverboat Shuffle - so plenty of music from beginning to end, felt as much as heard! If you are not actually taking part, come along and support your friends, feel the rhythm and watch the spectacle pass by. The parade will assemble in front of the Big Top on Cuthman Field and start processing at 11 a.m. along Church Street, down the High Street and back to the start along Tanyard Lane. Back at the Big Top the entertainment continues and both before and after the parade many different forms of refreshment will be on offer. The fun starts here .......
Walks and tours meeting point:
If you are taking part, please gather by the Festival Big Top from 10.30am. Coffee, tea and bacon butties will all be on sale.