THe Herbie Flowers All Stars Jazz Supper
Saturday 26th May
20:00 - 23:00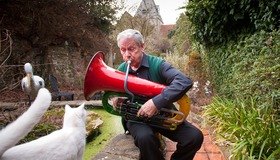 DUE TO UNFORSEEN CIRCUMSTANCES HERBIE IS UNABLE TO JOIN HIS BAND. BUT THE ALL STARS WILL PLAY ON WITH THEIR REGULAR SUBSTITUTE BASS PLAYER SO WE HAVE DECIDED TO CONTINUE WITH THE EVENT AND HAVE REDUCED THE PRICE OF THE TICKETS.



We have emailed those who have already purchased tickets to offer a partial or full refund. If this does affect you and have not received an email please email us at admin@steyningfestival.co.uk . It will still be a great evening so we hope most people will



At the end of our garden themed day, who else to get our festival off to a foot-stomping start but the great Herbie Flowers and his talented musical mates supported by our very own Cheer Up Mollys. Herbie regularly sells out the Brighton Dome with his brilliant Jazz Breakfasts, and we are expecting a full house for this first night Jazz Supper. There will be some great food vendors on site and the Festival Bar will be open so you can make a proper feast of the evening.

Herbie Flowers is an English musician specialising in bass guitar, double-bass and tuba. He is regarded as one of Britain's best-known session bass-players. 2014 saw him complete his sixth annual tour playing bass guitar on "Jeff Wayne's Musical Version of H.G.Wells' "War of the Worlds" - for which he played on the original 1976 recording. In the 40's he played tuba in Tiffin Boys School Band; in the 50's he played tuba in the RAF Central Band; in the 60's he formed Blue Mink; In the 70's he joined T. Rex; in the 80's he formed Sky with John Williams; in the 90's he taught bass studies at Ardingly College, Trinity College and the Dartington International Summer School. This century he's gone back to playing jazz on the double bass, as well as still doing recording sessions, plus the odd after dinner speech about his sixty years in the music business. More name dropping...He has worked for Bowie (Space Oddity etc), Lou Reed (Transformer), Nilsson (Schmilsson), Henry Mancini (Pink Panther), Sir Elton John (Burn Down the Mission), David Essex (Rock On – incidentally, produced by Jeff Wayne), Sir Paul Mac (Give My Regards to Broad Street), George Harrison (Somewhere in England), Ringo (Come Smell the Roses), loads of Dusty's recordings, Clive Dunn (Grandad – which Herbie composed!! )

The All Stars are: Charlotte Glasson (sax, flute, violin, musical saw); Paul Eshelby (trumpet, flugel horn); Mark Bassey (trombone); Stephen Wrigley (guitar, vocals); Roy Hilton (piano) and Malcolm Mortimore (drums, percussion).

The Cheer Up Mollys are a popular Sussex-based five piece folk, acoustic and Americana band made up of long-time friends and musical collaborators. www.thecheerupmollys.co.uk

There will be a variety of food vendors on site and the bar will be open all evening.