The Ninth Child: Sally Magnusson
Saturday 23rd May
11:30 - 12:30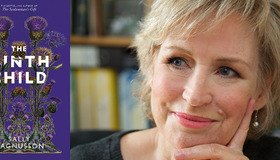 Doors Open: 11:00
Artist: Sally Magnusson
Venue: The Gluck Studio, Chantry House
Adult Ticket: £15.00
Under 18 Ticket: £7.00

Meet Scottish writer, broadcaster and bestselling novelist Sally Magnusson discussing her latest book. A familiar face on our TV screens, Sally received great acclaim for her debut novel, The Sealwoman's Gift, in 2018. Now we celebrate her second novel, The Ninth Child, a spellbinding tale which blends fact with fiction, history with folklore, and science with superstition, as it draws together the story of 17th Century minister Robert Kirke and Sally's own great-grandmother.

Set on the banks of Loch Katrine, where a huge engineering project is underway to deliver clean water to disease-ridden Victorian Glasgow and the hills echo with explosive blasts, The Ninth Child follows Isabel Aird, coming to terms with childlessness and attempting to start a new life with her engineer husband in this bleak but striking environment. When Isabel encounters a mysterious stranger who watches her every move, the foundations of her life grow increasingly less sure. Adult Ticket includes £5 towards the book.



'Richly imagined and energetically told' Sunday Times.

Disabled Access Available
Limited wheelchair access, please notify in advance.